Orthobiologics represent an innovative group of cellular based non-surgical therapies that naturally reduce inflammation and promote a faster, more robust healing of damaged tissue. At their core is the utilization of the body's powerful natural ability to naturally heal and renew itself. Through orthobiologics, physicians now have the means to harness and intensify that natural healing power and apply it in high concentration to stimulate advanced healing, reduce pain and improve function.
Platelet-Rich Plasma Therapy (PRP)
Platelet-rich Plasma Therapy or PRP, is an advanced orthobiologic treatment option that uses the patient's own blood components to stimulate the body's natural healing process in the damaged or injured area causing pain. The therapy centers around drastically enhancing the concentration of platelets found circulating in our blood stream to boost the natural biological healing powers of the body. It is a treatment option that is indicated for injuries or damage to tendons, ligaments, muscles and joints.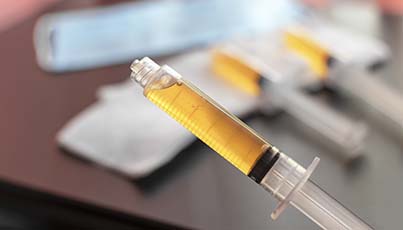 How does the PRP process work?
Your health care provider will collect a small amount of blood. This sample then goes through a rapid spinning process that separates and concentrates the platelets and other beneficial growth factors from the blood. The entire PRP production process is usually done in less than 30 minutes.
Am I a candidate for treatment?
Speak with your physician and ask if this treatment is right for you. Your provider will perform an examination to decide if this therapy will benefit you. If you are taking anti-inflammatory medications or blood thinners, your physician may temporarily discontinue the use of these medications until your treatment has taken place.
What are the risks associated with this treatment?
Platelet rich plasma therapy utilizes your body's own natural properties to treat your injury. Side effects from platelet rich plasma treatment are very uncommon.